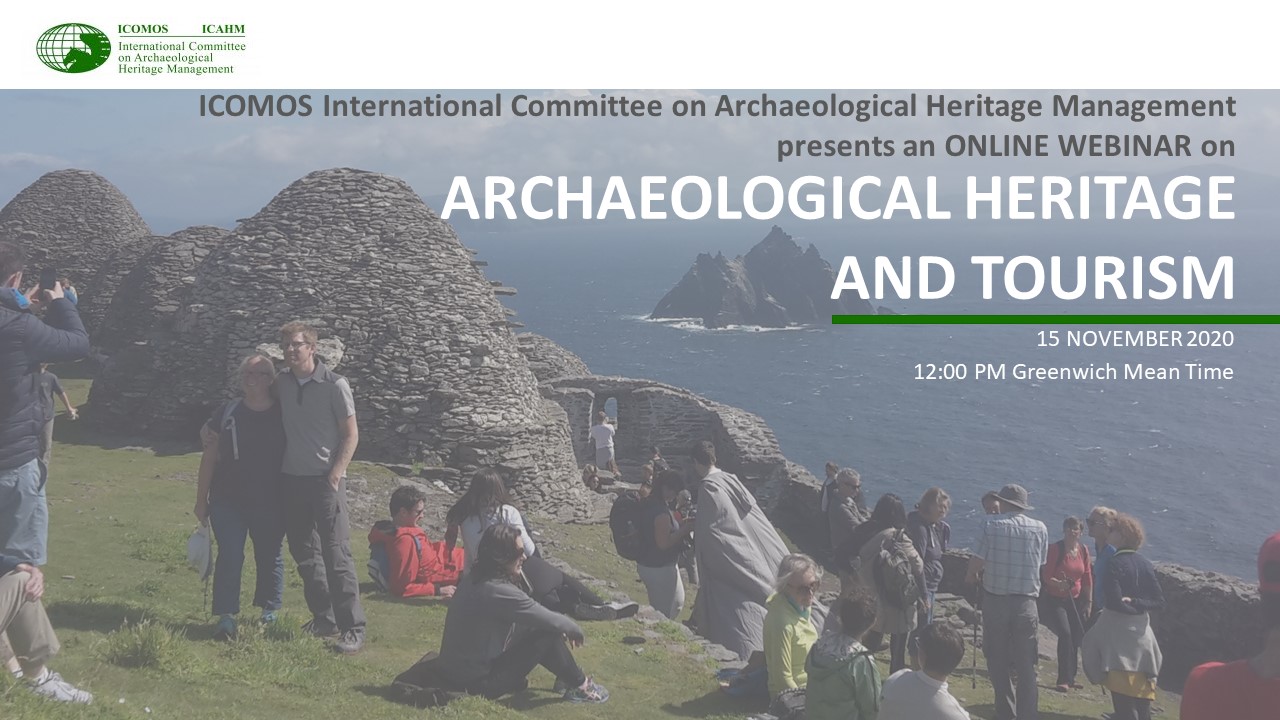 The ICOMOS ICAHM – International Scientific Committee on Archaeological Heritage Management presents an ICOMOS Webinar  on archaeological heritage and tourism

Saturday 15 November 2020, 12:00 GMT
Register via: https://zoom.us/meeting/register/tJUlcO6sqTwiHdWemSThAmgdML80kpHNL6ic
Recovering and Discovering during the Pandemic: A Sustainable Tourism Perspective Eulalie Dulnuan
Ms. Eulalie Dulnuan is an alumna of the University of the Philippines Diliman where she earned her degree in Tourism. She obtained her Master of Science in Leisure, Tourism and Environment from Wageningen University and Research Center, Netherlands through the Ford Foundation – International Fellowships Program. She is an Assistant Professor at the Ifugao State University and is currently the On-site Project Manager for the Phase II of the Ifugao Satoyama Meister Training Program and the Director of the Ifugao Rice Terraces Globally Important Agricultural Heritage Systems (GIAHS) Research and Development Center.
She is also the Project Manager of the International Indigenous Knowledge Innovation Center under the Center for Taiwan-Philippines Indigenous Knowledge, Local Knowledge and Sustainable Development. She teaches courses under the Tourism Department of the College of Arts and Science at IFSU.
Spiritually Sustainable? The role of religious identity in Indonesia's tourism Industry
Dr. Kelli Swazey
Dr. Kelli Swazey is an anthropologist and consultant whose research focusses on the relationship between religion and culture in the representation of identities across Southeast Asia. She coordinated the documentary film "Our Land is Across the Sea" about three generations of a Badjau family in Wakitobi National Park, Indonesia, who are navigating dramatic cultural and environmental changes that are occurring today. She is the Fulbright Diversity and Inclusion Liaison, East Asia and the Pacific, in Denpasar, Bali.. Her PhD is from the Department of Anthropology at the University of Hawaii Manoa. She was a Visiting Professor at the Department of Tourism at Gadjah Mada University from 2016-17, ran a study focus on Religion and Tourism at the Center for Religious and Cross-Cultural Studies at Gadjah Mada University from 2012-2018 and served as the Academic Program Director of the Australian Consortium for In-Country Indonesian Studies (ACICIS) Sustainable Tourism Professional Practicum based in Bali in 2019 and 2020.
Abstract: In Indonesian tourism development schemes, religion is either minimized as irrelevant to cultural categories of collective identity, or presented as an inseparable part of cultural practices, as in the case of Balinese Hinduism. When Indonesia's new Minister of Tourism and Creative Economy Wishnutama Kusubandio proposed a focus on halal tourism, regions like Bali that are heavily dependent on tourism saw the suggestion as an attempt to impose a non-Balinese moral order on the island that was potentially damaging to island's tourism industry. However, the larger context of this debate reflects the role tourism plays in informing and representing how communities understand the link between regional culture and its complex relationship to people's religious identifications. Based on ethnographic fieldwork in Java, Bali, and Maluku, this presentation explores how the growth of programs aimed at developing religiously exclusive tourism, like halal tourism (tourism according to Islamic principles) and wisata religi (religious tourism) has spurred controversy, and how this trend poses challenges to the development of socially and culturally sustainable tourism in Indonesia's Ten New Balis tourism development plan. As debates over tourism encapsulate moral and political concerns linked to the process of creating a distinction between religious and cultural identities, this talk outlines the challenges this ontological project poses for sustainable tourism models and international concepts of heritage.
Empowering Local Women to Build Futures and Save Pasts: Community Development, Tourism and Heritage"
Dr. Lawrence S. Coben
Dr. Coben is also an archaeologist and a Consulting Scholar at the University of Pennsylvania Museum of Archaeology and Anthropology. His most recent archaeological work focuses on Inca imperial expansion and the role of spectacles, rituals and theatricality in ancient societies. He co-authored the seminal volume Archaeology of Performance: Theater, Power and Community. Coben is also Chairman of the Board of NRG Energy, the Fortune 500 leading integrated power company in the US. He has started, run and served on the board of numerous energy companies.
In addition to NRG, he sits on the board of Freshpet Inc. Coben is an expert member of the ICOMOS International Scientific Committee on Archaeological Heritage Management ("ICAHM"), and former Chairman of ICAHM's Nominations Assistance Committee. He is a past Chairman of the Society for American Archaeology's Americas Committee, and a former Trustee of the Archaeological Institute of America.
Coben received a B.A. in economics from Yale University, a J.D. from Harvard Law School, and an M.A. and PhD in Anthropology with a focus in Archaeology from the University of Pennsylvania.
Small is Beautiful
Mr Boboi Costas
Mr. Boboi Costas founded Grassroots Travel in 2011. His Aloguinsan, Cebu, project won five global awards in sustainable tourism. In 2015 the University of San Carlos awarded him the Most Outstanding Alumnus in the field of Community Service where he also got his Graduate Certificate in Cebuano Heritage Studies. He was a University of California in Berkeley Environmental Leadership Fellow in 2016, the same year he was recognized by Philippine Airlines as one of the Inspiring Filipinos. The former Cebu Provincial Tourism Officer (2016-2019) is the President of Hambin (Hamiling Binilin).

Abstract: Aloguinsan town in central Philippine island of Cebu has shown what community-based tourism can do. Arguably, no other Philippine town has realized what grassroots organizations can become a community of fishermen, farmers and their families enjoying local prosperity from tourism and giving P6.7 million as share to the municipal government. From a fifth class municipality in 2009, the Municipality of Aloguinsan is now a fourth-class municipality thanks to sustainable tourism that showcases heritage conservation, community, culture and commerce. It is now reaping the benefits of the P1 million the local government has invested ten years ago.
Moderator Dr John Peterson – ICAHM President Dr. John Peterson is President, International Committee for Archaeological Heritage Management, and an anthropological archaeologist currently working in the Philippines and the western Pacific. He is part-time faculty in the Department of Anthropology, Sociology, and History at the University of San Carlos, and the editor of the Philippine Quarterly for Culture and Society. He is active in ICOMOS – Philippines as well as in the field with community heritage projects in the central Philippines. He received his BA in Environmental Studies from Antioch College, and his MA and PhD degrees from the University of Texas at Austin Department of Anthropology. He has worked extensively in the American Southwest, Northern Mexico, Ecuador, Brazzaville-Congo, Micronesia, and the Philippines.