President
Dr. John A. Peterson, Director, Micronesian Area Research Center, has been active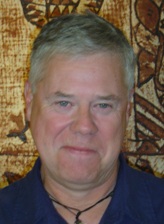 in Museum Studies in Texas and in the Philippines, and was Director of a Living Historical Farm and Agricultural Museum in Ohio as well as having contributed to the initiation of the Kabilin Heritage Center at the University of San Carlos Museum in Cebu, Philippines.
Dr. Peterson served as Director of the Anthropology Research Center and the Asian Studies Development Program as well as on the Anthropology faculty at the University of Texas at El Paso. As an archaeological investigator, Dr. Peterson has conducted archaeological and ethnographical research projects in the American Southwest, Texas, California, northern Mexico, the Philippines, Guam and Hawaii, along with innumerable cultural resource management projects and has contributed to projects in Jiangxi Province, China, Ecuador, and Palau.
As both faculty and scholar at the University of Texas at El Paso, Peterson's focus and accomplishments were on teaching and research of historical ecology, technology and society and archaeology. His research and extensive publications include investigations and articles on the historical archaeology of the Southwest and northern Mexico, Hawaiian archaeology, and the history and archaeology of the Philippines. He recently conducted a marine ethnographic study for the Kaloko-Honokohau National Park on the island of Hawaii and has extensive experience consulting with tribal and indigenous groups on environmental and cultural resource issues.
He has conducted numerous cultural resources studies and impact assessments in the Southwest U.S., Texas, and Hawaii for compliance with section 106 of the National Historic Preservation Act (NHPA) and the National Environmental Policy Act (NEPA). Peterson is a specialist in heritage preservation and has extensive experience in the policymaking and application of heritage and restoration projects.
Dr. Peterson has served on the State Board of Review, Texas Historical Commission for six years, the State of Hawai'i Preservation Board, and is currently serving on the Guam Historic Preservation Board. Peterson has been a leader in the community heritage preservation in the Spanish colonial landscapes of Socorro and San Elizario, Texas, in Cebu in the Philippines, and currently in Guam and Micronesia and has contributed his expertise in research, grant writing, and project coordination to numerous community projects.
Email: john.peterson(at)icahm.icomos.org