Upcoming Events
Research, Education and Training
Funding and Scholarship Opportunities


Upcoming Events
CALL FOR PAPERS – AHI Conference, 9th to 11th October 2019, Bedford – DEADLINE EXTENDED
Dates: 9 to 11 October, 2019
Place: Bedfor, UK
Abstract Deadline: https://ahi.org.uk/call-for-papers-ahi-conference-9th-to-11th-october-2019-bedford/
The conference theme is 'Truth and Interpretation'.
In a time when the phrases 'fake news' and 'post-truth' dominate news headlines and colour our views of social media, the media and politicians, it is time for interpreters to discuss 'what is truth?'
How do we deal with issues of truth in our work – how do we define truth – by whom is the idea of truth created – can there even be such a thing as truth?
How do we as interpreters approach hidden and covered up stories, how do we decide to balance untold and accepted narratives?
With a conference site visit to Bletchley Park, there could be fertile inspiration for this theme.
Abstracts, 500 word maximum, should be submitted to admin@ahi.org.uk. We look forward to receiving your abstracts of papers by 7 June  2019.
Any queries regarding abstracts or submissions please contacts Sheena Irving (sheena@sirvingav.com) or Kev Theaker (kev.theaker@ahi.org.uk)
International Scientific Symposium on Safety in Heritage
Dates: 7 to 9 May, 2019
Place: Madrid, Spain
Abstract Deadline: 15 January
Website/Site web :  www.safetyinheritage.com
Organized by: EKABA Foundation.
The Symposium will focus on safety in cultural assets, paying special attention to visitors. The Symposium key speakers will be: Glenn Boornazian, Joäo Carrilho da Graça, Mohamed Es Semmar, Jose María Ezquiaga, Gunny Harboe, Ward Miller, Pedro Salmerón, Eduardo Souto de Moura, Ana Tostões, Gabriel Ruiz Cabrero and Antoine Wilmering.
For more information, including the updated program, as well as for those who might be interested in attending and as there are limited places, please register through the symposium web page.
Conference: SENSE AND SUSTAINABILITY – International Conference on Archaeology and Tourism
Dates: 6 – 10 May
Place: Zagreb, Croatia
Deadline call for Papers: 20 March 2019
Website: https://zagrebarchaeologytourism.com/
Organised by the European Association of Archaeologists (EAA) and the The Archaeological Museum in Zagreb. The Conference seeks to bring together experts and practitioners from tourism and archaeology alike from all over the world. It will provide a forum for the discussion of topics related to the sustainable management and use of archaeology in heritage tourism, opening the door to a variety of perspectives that will reflect current theoretical and practical experiences across the stakeholder spectrum.
The Conference is centred around four main themes:
Heritage in tourism destination management
Sustainable development, archaeology and tourism
Tourism and archaeological heritage management in Protected areas, World heritage sites and National parks
Cultural routes
ICAHM Sponsored session:
Is Tourism Destroying World Heritage?
Chair: Dr. William Megarry (ICAHM / QUB)
World heritage sites are popular destinations for tourists, yet there is often a conflict between preserving these outstanding places and enabling people to access and experience them. This dichotomy lies at the heart world heritage management. The ICOMOS Mexico Charter on Managing Tourism at Places of Historical Interest states that, 'Reasonable and well managed physical, intellection and/ or emotive access to heritage and cultural development is both a right and a privilege' [emphasis added]. But this right comes at a cost. Many iconic World Heritage Sites are over-crowded and large numbers of visitors are leading to unsustainable tourism development. Global tourism is also a major contributor to greenhouse gas emissions and global warming, and World Heritage Sites play a significant role in this industry. Rising sea levels, increased storminess, desertification and increased rainfall are already impacting many World Heritage Sites, and the problem is only going to get worse.
This session will explore the intersection between tourism and sustainability – both of individual sites and of World Heritage in general. It welcomes papers exploring issues relating to World Heritage Sites including, but not limited to, carrying capacities, visitor management, community engagement in tourism, tourism and sustainability, climate change and tourism and slow-tourism
The call for papers and posters is now open here: we invite you to submit your proposal before 20 March 2019. For detailed information please contact ana.skolan@globtour.hr.

Conference GEORES  2019  – Geomatics and Restoration
Dates: 8 – 10 May
Place: Milan, Italy
Extended abstract submission : 11 January 2019
Young Researcher Workshop : 6-7 May 2019
Website: http://www.geores19.polimi.it/
Main topics for abstract submission include (but are not limited to):
HBIM – LOD, LOI, LOG, LOA. Modelling, object libraries, thematic mapping, data analysis and content enrichment
Monitoring&Restoration: Built Environment and Infrastructures
Open standards, ontologies, vocabularies, semantics and Big Data Hubs for Cultural Heritage knowledge
Interactive content based VR/AR/Virtual Museum
Low-cost sensors and new algorithms in cultural heritage digitization
Landscapes and needs of multi-temporal data collection
Preservation, climate change, hydrogeological and seismic risk and resilience management for Cultural Heritage and Built Environment
Archaeology, data analysis, informative models and systems
International Conference "Water as Heritage"
Dates: 27 to 31 May 2019
Place: Taiwan
Abstract Deadline: 31 October
Website/Site web :  www.water-as-heritage2019.org.tw
Contact : water.as.heritage2019@gmail.com
The Water-as-Heritage International Conference is not a one-off event, but rather part of a series of activities aimed at better connecting heritage organisations and wider water sector industries, regional interests, and communities.
The Conference is the third in a series concerned with the broad topic of 'Water and Heritage for the Future'. The previous conferences took place in Amsterdam (2013) and Delft (2016) . Beyond explorations of the topic, the conferences are supporting the proposed creation of an ICOMOS International Scientific Committee on Water and Heritage for the Future. This proposal was supported at a meeting of the ICOMOS Scientific Council held in Delhi, India, in December 2017.
The 2019 Water-as-Heritage Conference is also part of a longer agenda of conferences, symposia, and meetings that will consider the topic of 'Water and Heritage for the Future'.
Cancun Workshop 2019: Sustainable Technology Transfer for the Improvement of the Archaeological Discipline – Call for participation
Dates: 6 to 9 June 2019
Place: Cancun, Mexico – Instituto Tecnologico de Cancun
The workshop presents the opportunity to invite the groups and organizations to seek to contribute and create new alliances between us and towards the sectors, with the aim of the welfare of Mexico's cultural heritage. Let us join forces, make alliances, seek continuity in the work and make agreements with INAH. The desire to see archaeology as an essential element of daily life, in the present and in the future as something alive, present and necessary. A tool to serve rather than to serve. A science that is not ethereal but humanized, where the site, the burial, the shell, the theodolite, the biological affinity, the markers of activity, are seen in the present time and in the daily context, for the construction of a practice and a better future, of a better country, of a healthy environment, with the education that is needed. 
Los talleres, presentan la oportunidad para invitar a los grupos y organismos aquí presentes para buscar coadyuvar y crear nuevas alianzas entre nosotros y hacia los sectores, con del fin del bienestar del patrimonio cultural de México a dichos talleres. Sumemos esfuerzos, hagamos alianzas, busquemos continuidad en los trabajos y hagamos convenios con INAH. Los ánimos de ver a la arqueología como un elemento esencial de la vida diaria, en el presente y en el devenir futuro como algo vivo, presente y necesario. Una herramienta para servir antes que para servirse. Una ciencia que no es etérea sino humanizada, donde el sitio, el entierro, el conchero, el teodolito, la afinidad biológica, los marcadores de actividad, sean vistas en tiempo presente y en el contexto diario, para la construcción de una práctica y de futuro mejor, de un mejor país, del medio ambiente sano, con la educación que se necesita. 
Call for papers: Ancient Jericho – Tell es-Sultan From first settlers to an urban site in changing situations
Dates: 14 to 15 June 2019
Place: Helsinki, Finland
Abstract Deadline: 11 May
The Archaeological Society of Finland (SARKS) will host an international conference. The main key-note speaker is Prof. Lorenzo Nigro from University of Sapienza, Rome, who currently excavates Jericho, and Palestinian as well as Israeli representatives will be included.
The conference aims to focus on past excavations and finds that were made at ancient Jericho – Tell es-Sultan from the 19th century until recent years and how the site could be protected and preserved. Jericho is an oasis site, now situated in a desert landscape in the Palestinian territories northwest of the Dead Sea in the Jordan valley. It is in the border area that has been the place of movement and a conflict zone for millennia.
More information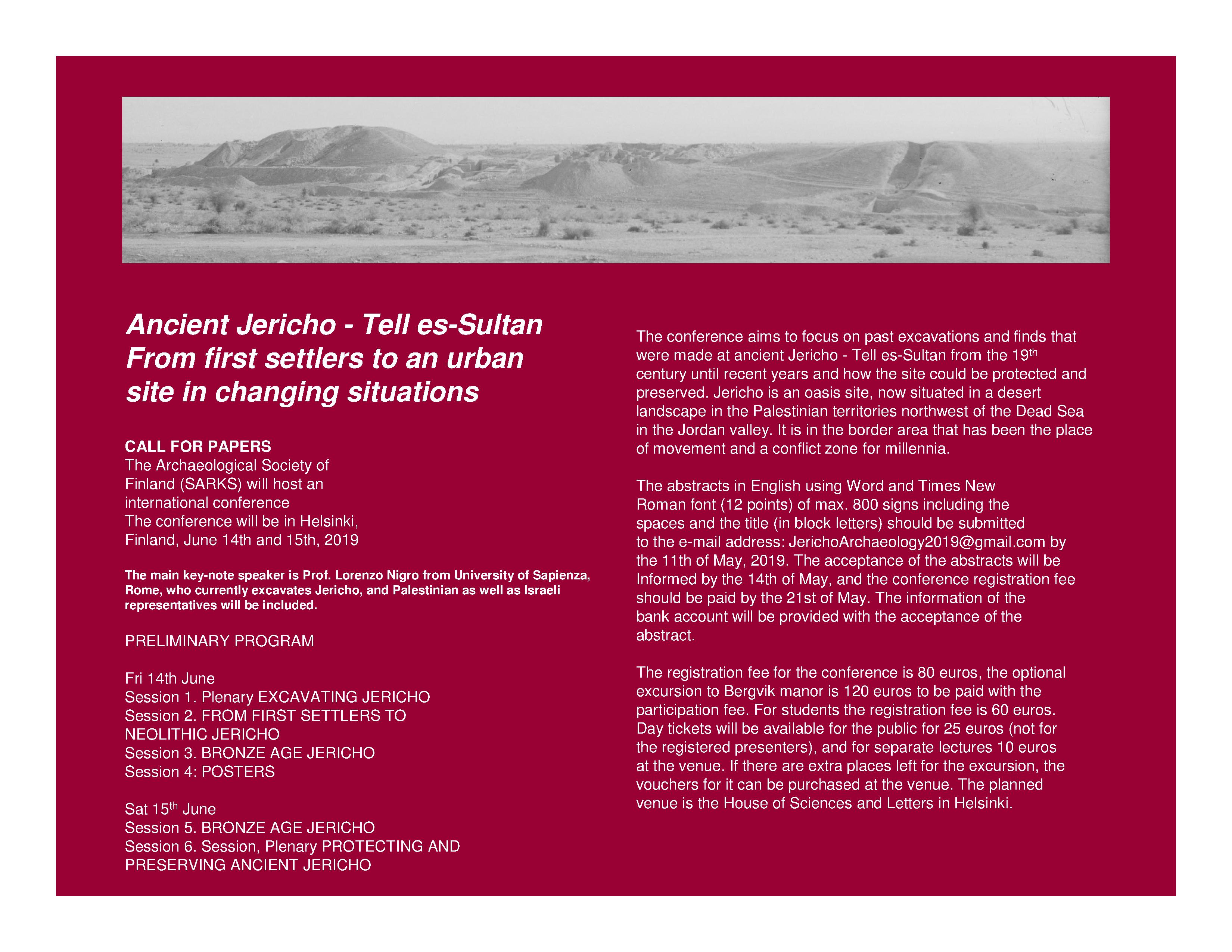 ICAHM Session at EAA Bern: The Role of ICAHM in Supporting
ICOMOS and UNESCO in the Context of World Heritage Sites
Dates: 4 to 8 September 2019
Place: Bern, Switzerland
Abstract Deadline: 14 February
Website:  https://www.e-a-a.org/eaa2019
Flyer
This session aims at discussing the role of archaeologists in general and heritage managers in particular in the context of World Heritage (WH), as ICAHM is UNESCO's advisory body for this topic. Europe is the region with most WH sites in the world. Many of them are archaeological sites. On the one hand,
this imbalance is a sign for the 'hegemonic Western vision of Archaeological (Cultural) Heritage' (UNESCO's Global Strategy 1994), on the other hand Europe serves as a great field experiment in heritage management. This session wants to discuss examples of best practice or other experiences
highlighting archaeological heritage management issues at European World Heritage Sites. The main objectives are:
To present ICAHM's Scientific Committee and the opportunities this international non-governmental organisation (NGO) offers to archaeologists.
To discuss new challenges that archaeological heritage management faces (i.e. community involvement, evaluation systems, management plan strategies,
conflicts of interpretation and decolonization models, conservation, environmental relationships, and contemporary archaeology).
To establish a closer relationship between European archaeologists in order to grasp specific necessities of the area and discuss possible solutions that the ICAHM committee could implement.
TERRA 2021: 13th World Congress on Earthen Architecture
Dates: June 8-11, 2021
Place: Santa Fe, New Mexico, USA
Website: http://isceah.icomos.org
TERRA 2021 will be organised by the Getty Conservation Institute, the National Park Service Vanishing Treasures Program, and the University of Pennsylvania School of Design.
The TERRA event is a worldwide congress whose themes relate to the study and conservation of earthen architectural, archaeological and cultural landscape heritage, as well as contemporary earthen architecture. These conferences started to be organized as small meetings of professionals working in earthen architecture, being the first one held in Yazd, Iran, in 1972. Since then, eleven more congresses were organized and have strengthened international collaboration, created regional networks, generated research and partnerships, and contributed to further the knowledge in the area: The following TERRA international meetings were held in Iran (1976), Turkey (1980), Peru (1983), Italy (1987), USA (1990), Portugal (1993), United Kingdom (2000), Iran (2003), Mali (2008), Peru (2012), and France (2016). The symposium grew from a small group of less than two-dozen people in the first symposium; to an International Conference under the aegis of ISCEAH, with 750 people attending TERRA 2016, in Lyon, France. In TERRA 2021 and TERRA 2024, the World Congress is expected to host more than a thousand experts and interested people.
Research, Education and Training
First Aid to Cultural Heritage in Times of Crisis (FAC) 2019
PhD Fellowship Position at the UNESCO Chair on Digital Cultural Heritage at the Cyprus University of Technology
Applications are invited from candidates who possess the necessary qualifications in order to fill one (1) full time Marie S. Curie Early Stage Researcher (ESR) Fellow Position in the newly established UNESCO Chair on Digital Cultural Heritage / Digital Heritage Research Lab of the Cyprus University of Technology (CUT – https://www.digitalheritagelab.eu/) in the research field of Enrichment of 3D volumetric objects with Metadata and Semantics in Cultural Heritage: The selected Marie S. Curie ESR will work for thirty six (36) months within the H2020 Initial Training Network CHANGE Marie S. Curie ITN Project (http://change-itn.eu/), an EU-funded programme bringing together eight (8) leading European Institutions as full beneficiaries and ten (10) other as partners in a transnational network, aiming at implementing a multidisciplinary and intersectorial research and training programme between academic, research and the industrial partners.
Description:
Cultural Heritage (CH) is an integral element of Europe, vital for the creation of a common European identity and one of the greatest assets for steering Europe's social, economic development and job creation. However, the current research training activities in CH are fragmented and mostly designed as single-discipline, failing to cover the whole lifecycle of Digital Cultural Heritage (DCH) research, which is by nature a multi-disciplinary and intersectorial agenda. The CHANGE project will train a new generation of early stage researchers towards a common goal, namely the assessment of changes in tangible cultural heritage objects and their monitoring in the atmosphere and/or during their conservation treatment, using multimodal imaging techniques to complement more traditional analytical techniques. Their research will consist in optimising capture of data and their analysis, visualisation and management, to ensure a better documentation and long-term preservation of our common European cultural heritage. This work will be carried out within an interdisciplinary environment involving five (5) CH and four (4) ICT beneficiary institutions as well as nine (9) CH, ICT and industrial partners from eight (8) EU countries.
More information: https://www.digitalheritagelab.eu/news/job-opportunites-fellowships/eu-h2020-era-chair-digital-cultural-heritage-mnemosyne/
Workshop Ancient Architectural Repairs and Restorations in the Greek World from the Classical to the Imperial Period
Where: University of Oxford, Wolfson College
When: Thursday 28 February – Friday 1 March 2019
This workshop will bring together experts from different backgrounds in order to address technical as well as institutional aspects of ancient building repairs. Interdisciplinary approaches are especially needed in the field of ancient restorations. For this reason, we welcome papers not only by classical archaeologists and historians but also by conservators, geologists and chemists that work on relevant subjects, regardless of their career stage.
More information: http://www.fasticongressuum.com/single-post/2018/12/01/CALL-27122018-Ancient-Architectural-Repairs-and-Restorations-in-the-Greek-World-from-the-Classical-to-the-Imperial-Period—Oxford-England
Second International ICCROM course «Wooden architecture conservation and restoration»
Kizhi museum announces the application round for the second International ICCROM course "Wooden architecture conservation and restoration".
Start date: 26 August, 2019
End date: 14 September, 2019
Deadline to apply: 22 April, 2019
Organizer: Kizhi Open Air Museum
Partners:
ICCROM
Petrozavodsk State University, UNESCO Chair "Wooden Architecture Research and Preservation"
Ministry of Culture of the Russian Federation
See leaflet for more information about the course and how to apply, as well as this link: https://www.iccrom.org/courses/wooden-architecture-conservation-and-restoration.
2019 ICAHM Annual Meeting: Archaeological Heritage and World Heritage Sites: Towards the Sustainable Management of Landscapes

Dates: 3-6 December 2019
Place: Arica, Chile
Abstract Deadline: 15 April
Website: http://icahm.icomos.org/2019-icahm-annual-meeting-chile/
In 2019, the ICOMOS International Scientific Committee for Archaeological Heritage Management (ICAHM) is proud to announce that the 2019 ICAHM Annual Meeting will bring us, after 7 years, back to South America, to Arica, Chile. The Meeting will be organized in cooperation with ICOMOS Chile and take place at the Antay Hotel.
This 2019 meeting will engage national ICOMOS committees in South America and globally to consider the themes within the overall context of "Archaeological Heritage and World Heritage Sites, Towards the Sustainable Management of Landscapes".  Shifting from sites to landscapes addresses broader communities engaged and impacted by World Heritage designations, and especially indigenous peoples, their participation in decision-making, and their control over their indigenous places and traditional knowledge.
Conference themes:
Indigenous Archaeologies in Latin America: Archaeologists, Archaeology and Indigenous Peoples
The role of States, communities and experts in the conservation and management of the cultural and archaeological heritage of the Andean peoples of northern Chile
Processes of plundering and restitution of archaeological and anthropological collections
Public Archaeology and Aboriginal Communities
Competing Values: Bioethics in Practice within Archaeological and Anthropological Research
We will also organize two round-tables focused on:
Mentoring Session on Desk Audits/Site Visits
World Bank Consultations and Other Professional Networking
We also offer a pre-conference program including:
2-day site visit to The Nitrate plants of Humberstone and Santa Laura, WHS, the Geoglyphs of Pintados and Tiliviche
1-day excursions to: Qhapaq Nan segment, World Heritage Site, in Socoroma and the Valley of Lluta; Chinchorro sites in Camarones Valle; and the Archaeological sites and Museum in Azapa Valley
Pre-conference International Seminar "Conservation and sustainable development of the archaeological heritage at the World Heritage Sites of Chile"
Important conference dates:
Open registration:  3 March
Abstract submission deadline: 15 April
Acceptance of papers and posters: 15 May
Registration deadline for presenting authors: 1 July
Early Bird registration deadline: 30 June
Registration Deadline: 1 November
Funding and Scholarship Opportunities