Upcoming Events
Research, Education and Training
Funding and Scholarship Opportunities


Upcoming Events
ICAHM 2018 Annual Meeting

Dates: October 25 – 28, 2018
Place: Castle of Montalbano Elicona, Sicily, Italy
Deadline for abstracts: May 1, 2018
In the European Year of Cultural Heritage ICAHM is happy to announce that the 2018 ICAHM Annual Meeting, will take place in the spectacular Medieval castle of Montalbano Elicona (province of Messina, Sicily, Italy), in cooperation with the Municipality of Montalbano Elicona and under the patronage of UNESCO and ICOMOS Italy.
Please visit the conference page for more detailed information.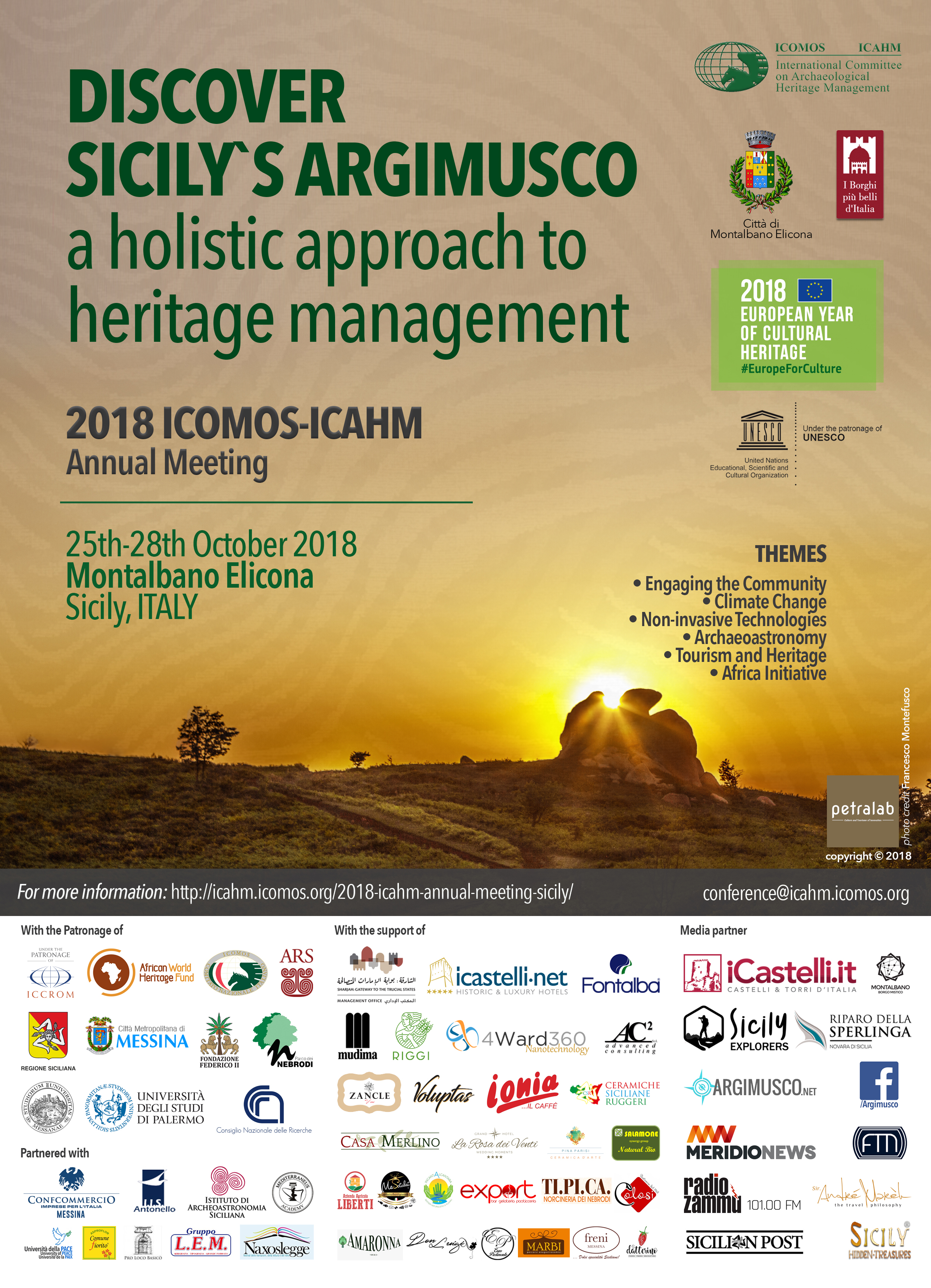 Conference: A Future for Our Recent Past. Model Projects of Modern Heritage Conservation in Europe

Dates: November 8-9, 2018
Place: Leipzig, Germany
In accordance with the motto Sharing Heritage of the European Cultural Heritage Year 2018, ICOMOS Russia, ICOMOS Germany and partner organisations are in preparation of an international conference on model projects of 20th century heritage conservation. The meeting will be part of the denkmal – Trade Fair on Conservation and Restoration of Monuments and Sites and Old Building Renovation in Europe and of the MUTEC – International Trade Fair for Museum and Exhibition Technology in Leipzig (8–10 November 2018).
Conference: V Conferences of Fortifications Association of Friends Castle of Montjuïc and International Congress of ICOFORT
The Association of Friends of the Castle of Montjuïc / ICOFORT-Spain invites all academics and professionals interested in the debate about the fortified heritage to present their contributions at the congress, both in the form of communications and in the form of posters. All duly accepted communications will be published in the conference proceedings with ISBN, upon payment of the registration fee of at least one author. Contributions received after the deadlines may not be included in the conference proceedings. The official languages of the congress are Spanish and English, however you can use Italian and French or Portuguese, only in the oral presentation without simultaneous translation. For a better understanding, if the presentation has texts, they will be written in English. See link: https://www.icofortspain.org/congress
Dates: November 14 – 17, 2018
Place: San Fernando de Figueras, Spain
Deadline for abstracts: June 4, 2018
ANNOUNCEMENT-ICOFORT International Congress 2018 San Fernando de Figueras, Spain
Seminar: Hygge & Heritage – World Heritage and Local Services Seminar
Dates: November 18 – 20, 2018
Place: Korpilahti & Petäjävisi, Finland
Deadline for abstracts: 31 July, 2018
Hygge [hue-gah] is a Danish word to describe an atmosphere of warmth, wellbeing, and cosiness when you feel at peace and able to enjoy simple pleasures and being in the moment.
At the end of November, as the days get darker and colder in Central Finland and the people retreat into the comfort and warmth of their homes, we invite you to come to Petäjävesi and Korpilahti to indulge in two of our favourite things: Hygge & Heritage!
The Hygge & Heritage – World Heritage and Local Services Seminar brings together all those that are interested in developing lesser-known World Heritage Sites and their impact on local communities, organizations and businesses.
Join us at the World Heritage Sites of Petäjävesi Old Church and Struve Geodetic Arc – Puolakka to be inspired, network and develop fresh ideas how to sustainably develop World Heritage Sites and the areas surrounding them with a specific focus on local services.
We welcome case-studies for the following themes:
Visitor Analysis
Destination Management
Pedagogic Innovations and Approaches to UNESCO World Heritage
Marketing Strategy
Interpretation tools
Co-operation and Development Around Serial and Transnational World Heritage Sites
For more information about the conference, to submit your abstract and register for the Seminar: http://hygge-and-heritage-seminar.humak.fi/
Contact: hyggeheritage@humak.fi
H&H Call for Papers and Posters

Conference: ICOMOS Annual General Assembly 2018
Dates: December 4 – 8, 2018
Place: Buenos Aires, Argentina
Deadline for abstracts: 30 April, 2018
The meetings will be accompanied by a one-day Scientific Symposium on the theme of "Sustainability: Cultural Heritage and Sustainable Development" organised by the Advisory Committee. The Symposium will take place on 7 December in La Plata (very close to Buenos Aires).
Download the Call for Session Proposals – English – French – Spanish
Deadline for submissions is 30 April 2018. For any questions you may have on the Symposium – please contact ADCOM2018-Symposium@icomos.org
Download the tentative programme – English – French – Spanish (French and Spanish translations are under way) Further information on additional events as well as how to register, hotels etc. will be circulated and posted on the ICOMOS website in the coming weeks.
Conference: Art&Archaeology2018

Dates: December 9 – 12, 2018
Place: Jerusalem, Israel
Abstract Deadline: 30 September 2018
The main objective of Art&Archaeology2018 is to bring to light recent R&D results in the analysis methods that advance the frontiers of knowledge connected with human cultural heritage. Heritage is our legacy from the past. It is our source for understanding the human mind, its capabilities and potential. Knowledge of the past influences our present day life and what we pass on to future generations.
The conference will focus on novel and new breakthrough methods and technologies for measuring and analysis that contribute to deeper and better understanding of human cultural heritage, our archaeological, historic and artistic patrimony. It seeks to do so by encouraging communication between art, archaeology, destructive and nondestructive evaluation disciplines; providing a survey of present work in the field and stimulating discussions and new joint research projects.
Art&Archaeology2018 aims to bring together a spectrum of scholars, specialists and experts in the fields of archaeology, art, history, preservation, restoration and reconstruction of museum or archaeological objects, cultural heritage, researchers of ancient structures as well as measurement scientists and technologists. We believe that synergy between experts in various fields will yield further developments, adaptations and adoption of measurement methods to deal with challenges of culture heritage research. The knowledge to be gained will provide understanding in more depth and dimensions of the human genius.
Conference: Ethnography With a Twist

Dates: February 12 – 14 2019
Place: Jyväskylä (Finland)
Abstract Deadline: 31 AUGUST 2018
https://www.jyu.fi/ethnotwist
The conference will bring together researchers from diverse disciplines in the humanities and social sciences. We welcome papers and panels that explore ethnographic research from a wide range of perspectives that reflect the variety of backgrounds and/or address personal and affective experiences of the researchers.
If you are interested in presenting a paper or a poster, or proposing a full panel (including 3–4 papers), or an experimental ethnographic session/workshop, please submit an abstract of 250 words, including 4–6 keywords, the title, the author(s)' name(s), affiliations, and contacts by 31 AUGUST 2018 to the conference organizers' at email address: ethnotwist@jyu.fi. Please see more instructions about abstract submission at https://www.jyu.fi/ethnotwist.
More information: Ethnography with a Twist_CfP_ FINAL
Conference: The Thrill of the Dark: Heritages of Fear, Fascination and Fantasy
Dates: 25-27 April 2019
Place: Birmingham, UK
Abstract Deadline: 31 October
www.thethrillofthedark.wordpress.com
heritageconference@contact.bham.ac.uk
Darkness is a complex concept. In a real and a metaphorical sense it invites contemplation and imagination of the sad, the unknown, the fearful and unwholesome desires. At the same time it is thrilling and strangely attractive, playing with deep and persistent cultural and metaphysical tensions of good and evil, right and wrong. Darkness provides space for hiding but also for exploration; it holds the potential for acceptance, forgiveness, or reconciliation for the haunted. Despite our apparent fear of the dark and the risks it hides, it nonetheless holds a powerful fascination which is evident in many aspects of popular culture.
This conference seeks to explore the multiple relationships we have with the concept of darkness with reference to the legacies we create from it. How is the thrill of darkness expressed through the widely framed notion of heritage? How do we experience, negotiate, represent, commodify, valorize or censor the heritages of darkness? What and where is the thrill of the darkness and how is it negotiated across cultures, generations and gender? Why does the dark fascinate us so?
We invite researchers from the fullest range of disciplinary perspectives to consider these and other questions in an open-ended and thought-provoking manner.  Please submit a 300-word abstract of your intended talk no later than October 31stvia our online submission platform: www.universityofbirmingham.submittable.com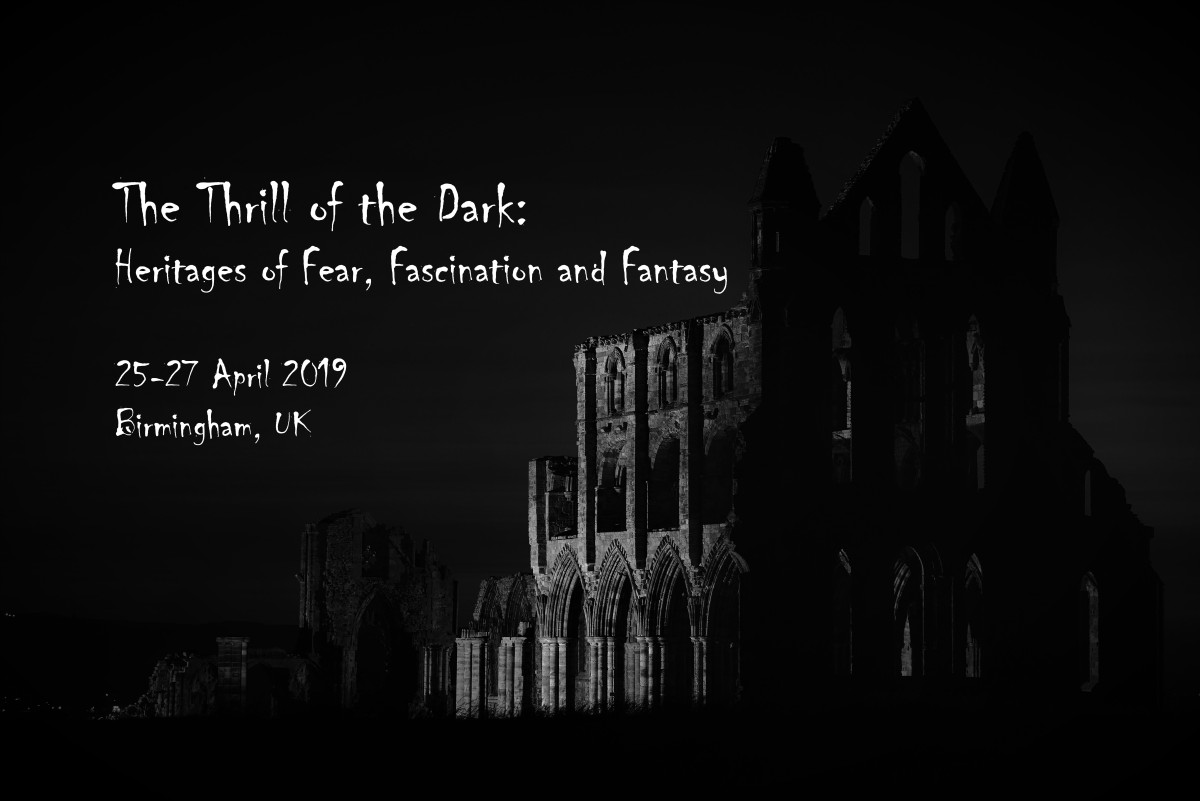 First Announcement – International Conference "Water as Heritage"
Dates: 27 to 31 May 2019
Place: Taiwan
Abstract Deadline: 31 October
Website/Site web :  www.water-as-heritage2019.org.tw
Contact : water.as.heritage2019@gmail.com
The Water-as-Heritage International Conference is not a one-off event, but rather part of a series of activities aimed at better connecting heritage organisations and wider water sector industries, regional interests, and communities.
The Conference is the third in a series concerned with the broad topic of 'Water and Heritage for the Future'. The previous conferences took place in Amsterdam (2013) and Delft (2016) . Beyond explorations of the topic, the conferences are supporting the proposed creation of an ICOMOS International Scientific Committee on Water and Heritage for the Future. This proposal was supported at a meeting of the ICOMOS Scientific Council held in Delhi, India, in December 2017.
The 2019 Water-as-Heritage Conference is also part of a longer agenda of conferences, symposia, and meetings that will consider the topic of 'Water and Heritage for the Future'.
Research, Education and Training
Funding and Scholarship Opportunities