Upcoming Events
Research, Education and Training
Funding and Scholarship Opportunities


Upcoming Events
Conference:  International Symposium on stone in Architecture and Sculpture from the Bronze Age to the Middle Ages: Quarrying, Carving and Conservation. Deadline extended till 30 March!

Dates: June 19 – 21, 2018
Place: Gaziantep University, Turkey
Deadline for abstracts: 30 March, 2018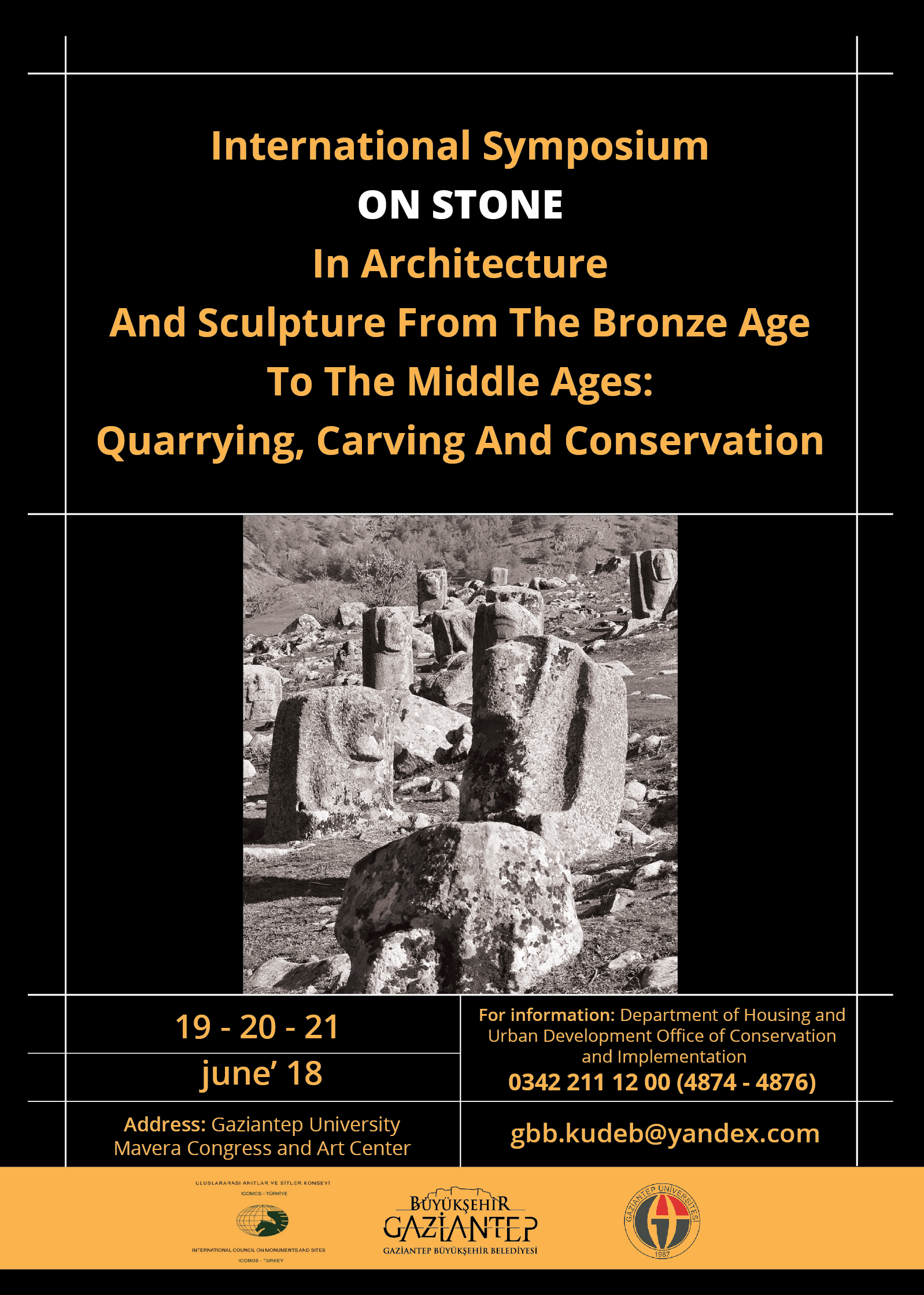 Anyone who considers they have the appropriate expertise to make a positive contribute to these proceedings, and who is interested in attending the Gazantiep symposium should contact the ICAHM Board with a short statement of interest setting out their expertise and reasons for wanting to attend. The Board will then consider who to recommend to the organisers as formal representatives of ICAHM at the symposium.
Symposium Call Yesemek Symposium
Yesemek Symposium travel programme
Conference: Urban Jewish Heritage: Presence and Absence
Dates: September 3-7, 2018
Place: Krakow, Poland
Deadline for abstracts: April 9, 2018
Over the centuries, cities across Europe and around the world have been impacted by their Jewish communities; as places of both presence and absence. Being held as part of the European Year of Cultural Heritage, this Conference is dedicated to addressing Urban Jewish Heritage and the multi-layered issues it faces. From tourism and sustainability to conservation and representation, the Conference will bring together academics, planners, policy makers and community leaders to examine the pasts, presents and futures for cities with Jewish Heritage.
Organised by the Ironbridge International Institute for Cultural Heritage and the Foundation for Jewish Heritage, in association with the City of Krakow and Villa Decius Association, we invite abstracts of 300 words to be submitted as soon as possible but at the latest by 9 April 2018. Please visit our website for more details:
www.urbanjewishheritageconference.wordpress.com
Conference: New Horizons in the Conservation of Wooden Built Heritage – IIWC 21st Symposium 2018

Dates: September 12 – 15, 2018
Place: York, UK
Deadline for abstracts: May 15, 2018
The 21st International Symposium of the ICOMOS International Wood Committee supported by ICOMOS-UK and York Archaeological Trust, and in association with the University of York, Historic England and York Minster. The Symposium will be a multidisciplinary forum for the interchange of experience, ideas, and knowledge of 'New Horizons' in the conservation of wooden built heritage as embraced in the new ICOMOS 'Principles' adopted in Delhi in 2017.
The papers presented at the Symposium will broaden current perspectives in the conservation of wooden built heritage. Workshops put on by York Archaeological Trust and Historic England, and field trips in York will complement the speaker presentations. "New Horizons" will be a forum to engage a diverse community of experts, professionals and practitioners with the common goal of exploring new multi-disciplinary perspectives and potentialities in the field of conservation.
Call for Papers IIWC symposium York 2018
Conference: Safeguarding the Values of the European Cultural Heritage
Dates: September 14 – 15, 2018
Place: Athens, Greece
ICOMOS Hellenic is organizing an international two-day conference on the occasion of celebrating the European Year of Cultural Heritage 2018 and the International Day for Monuments and Sites.
The scope of the conference is to share opinions and acquired knowledge between experts regarding the preservation of the cultural and historical value of the European heritage, to answer questions about the preservation of Europe's historical cities, archaeological sites, natural landscapes and integrated aspects of intangible heritage and to discuss principles and policies for their sustainable management. Within this framework representatives of ICOMOS national and scientific committees are invited to share their views and experience on the protection and communication of the common, yet diverse, cultural heritage of Europe, especially in view of the current political, social and economic challenges.
The conference will be organized according the following thematic sections:
i.         
Folktales, myths and traditions: The integrated intangible aspect of European cultural monuments and sites.
ii.       
European Cultural Heritage and Sustainability. Initiatives and best practices.
iii.     
Digital Documentation Technologies in the Service of Preserving the European Cultural Heritage.
iv.     
Young Professionals, the "heirs" of the European heritage: Challenges and Perspectives.
v.       
Local Communities and the Social Dimensions of the European Heritage.
vi.     
Risks and Mitigation Strategies in all types of Cultural Heritage.
Conference: III International Congress on the Anthropology of Salt
Dates: September 12 – 15, 2018
Place: Basque Country, Vitoria-Gasteiz
Salt is the only edible rock in nature. It is not only essential for the survival of living creatures, but also to increase knowledge of our past. The study of salt has become in the last few decades an extremely valuable source of information.
The Valle Salado de Añana Foundation is proud to organise this conference. Its aim, in addition to providing a future for the Valle Salado and the people who work and live there, is to show to the world that the culture and agriculture of salt practiced all over the world is of great inherited value acquired from our ancestors that needs to be passed on to future generations.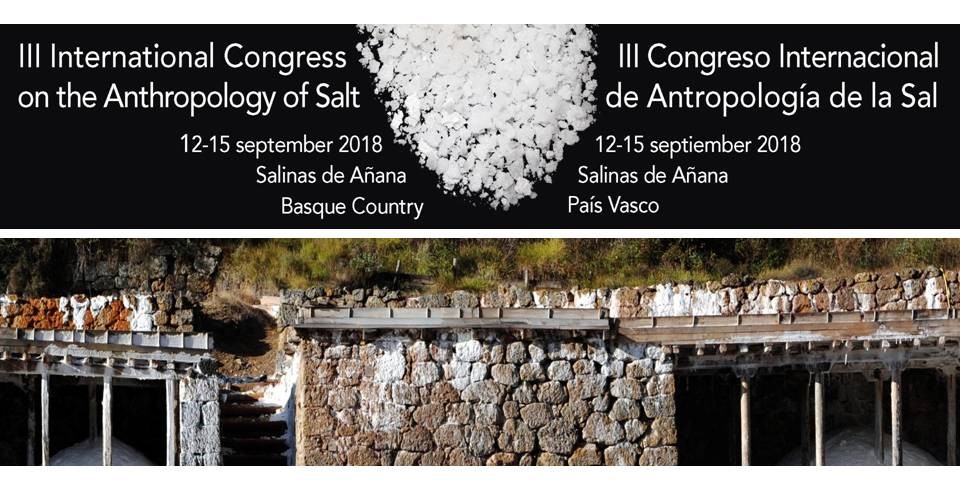 Conference: CULTURE: Conserving it Together Conference Suva, Fiji, 1-5 October 2018
Dates: October 1 – 5, 2018
Place: Suva, Fiji
Deadline for abstracts: April 3, 2018
The 2018 CULTURE Conference Content Committee now seeks submissions of abstracts for papers to a joint planned conference to share knowledge, celebrate the rich culture of the Pacific and discuss common issues on heritage conservation across the region.  The conference will take place over three days (3-5 October) in Suva, Fiji with a pre-conference 'Pasifika Charter' workshop in Levuka World Heritage Port Town, which will form one of the forum discussions during the conference. Specific sessions on Underwater Cultural Heritage and Culture – Nature Journey will be held during the conference.
There will also be post-conference tours to various sites in Fiji. Delegates will have the opportunity to present papers on common heritage conservation issues under the main theme of CULTURE and four sub- themes:
Heritage at Risk – Climate Change and Disasters;
Cultural Landscape Practice and Management;
Diverse Communities – Intangible Heritage; and
Heritage as a Pillar of Sustainable Development.
For all further details, please refer to the Call for Papers and the Application Form.
Conference: International Symposium for the Conservation, Research and Sustainable Development of Pre-Historic Heritage
Dates: October 10 – 14, 2018
Place: Peking Man Site at Zhoukoudian, Beijing
Deadline for abstracts: May 1, 2018
2018 is a year to commemorate the 100th anniversary of discovering Peking Man Site at Zhoukoudian, also a year to commemorate the 65th anniversary of the Zhoukoudian Museum. You are cordially invited to submit research papers for presentation at our conference, which is jointly organized by the Museum of Peking Man Site at Zhoukoudian, Zhoukoudian International Paleoanthropological Research Center at the CAS Institute of Vertebrate Paleontology and Paleoanthropology, ICOMOS China and National Heritage Center of Tsinghua University.
More information: CFP Zhoukoudian Conference 2018
ICAHM 2018 Annual Meeting Call for Papers

Dates: October 25 – 28, 2018
Place: Castle of Montalbano Elicona, Sicily, Italy
Deadline for abstracts: May 1, 2018
In the European Year of Cultural Heritage ICAHM is happy to announce that the 2018 ICAHM Annual Meeting, will take place in the spectacular Medieval castle of Montalbano Elicona (province of Messina, Sicily, Italy), in cooperation with the Municipality of Montalbano Elicona and under the patronage of ICOMOS Italy.
Registration is now open and you are invited to submit an abstract before 1 May. Please see the Call for Papers and visit the conference page for more detailed information.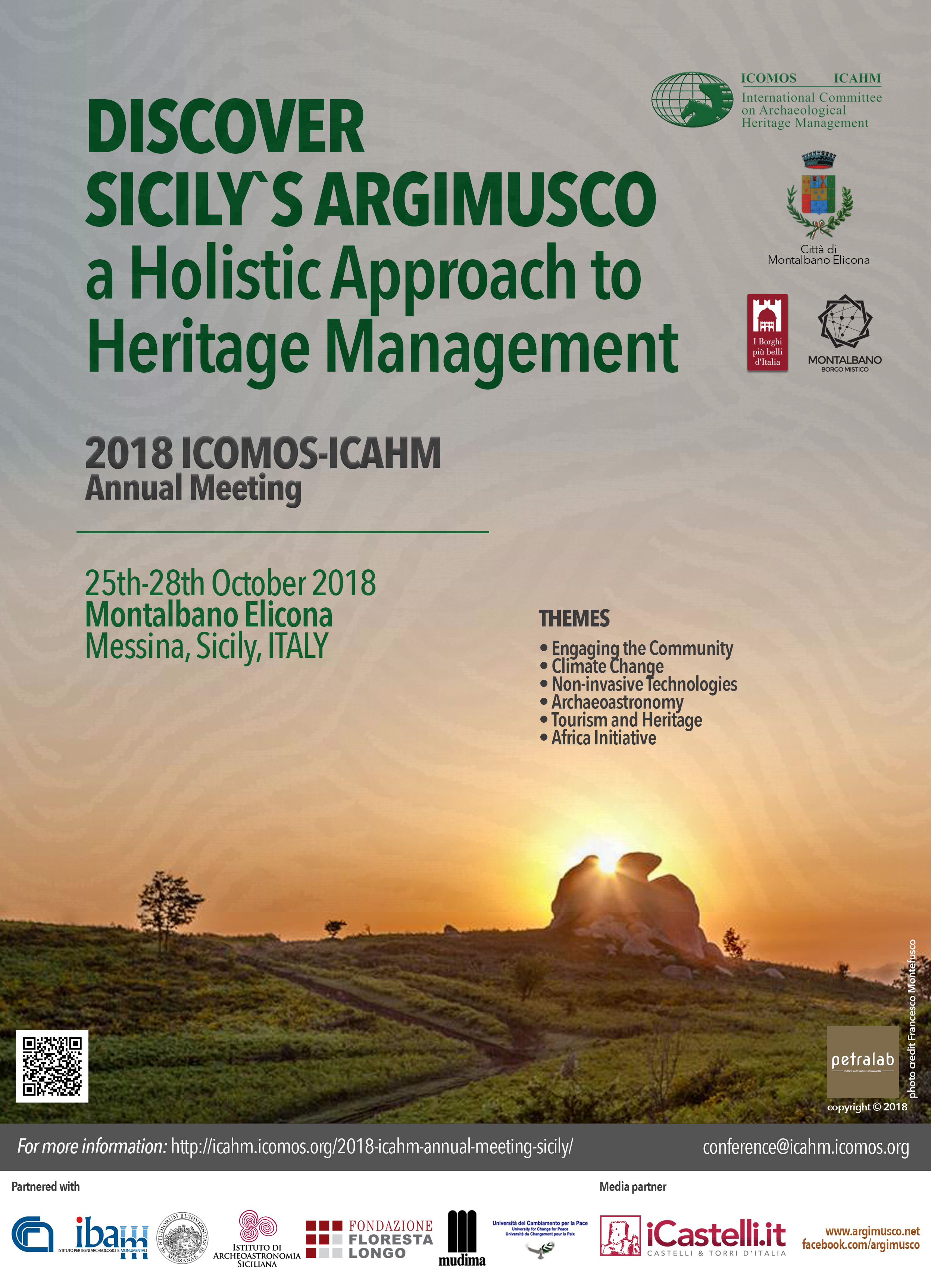 Conference: V Conferences of Fortifications Association of Friends Castle of Montjuïc and International Congress of ICOFORT
The Association of Friends of the Castle of Montjuïc / ICOFORT-Spain invites all academics and professionals interested in the debate about the fortified heritage to present their contributions at the congress, both in the form of communications and in the form of posters. All duly accepted communications will be published in the conference proceedings with ISBN, upon payment of the registration fee of at least one author. Contributions received after the deadlines may not be included in the conference proceedings. The official languages of the congress are Spanish and English, however you can use Italian and French or Portuguese, only in the oral presentation without simultaneous translation. For a better understanding, if the presentation has texts, they will be written in English. See link: https://www.icofortspain.org/congress
Dates: November 14 – 17, 2018
Place: San Fernando de Figueras, Spain
Deadline for abstracts: June 4, 2018
ANNOUNCEMENT-ICOFORT International Congress 2018 San Fernando de Figueras, Spain
Seminar: Hygge & Heritage – World Heritage and Local Services Seminar
Dates: November 18 – 20, 2018
Place: Korpilahti & Petäjävisi, Finland
Deadline for abstracts: 1 July, 2018
Hygge [hue-gah] is a Danish word to describe an atmosphere of warmth, wellbeing, and cosiness when you feel at peace and able to enjoy simple pleasures and being in the moment.
At the end of November, as the days get darker and colder in Central Finland and the people retreat into the comfort and warmth of their homes, we invite you to come to Petäjävesi and Korpilahti to indulge in two of our favourite things: Hygge & Heritage!
The Hygge & Heritage – World Heritage and Local Services Seminar brings together all those that are interested in developing lesser-known World Heritage Sites and their impact on local communities, organizations and businesses.
Join us at the World Heritage Sites of Petäjävesi Old Church and Struve Geodetic Arc – Puolakka to be inspired, network and develop fresh ideas how to sustainably develop World Heritage Sites and the areas surrounding them with a specific focus on local services.
We welcome case-studies for the following themes:
Visitor Analysis
Destination Management
Pedagogic Innovations and Approaches to UNESCO World Heritage
Marketing Strategy
Interpretation tools
Co-operation and Development Around Serial and Transnational World Heritage Sites
For more information about the conference, to submit your abstract and register for the Seminar: http://hygge-and-heritage-seminar.humak.fi/
Contact: hyggeheritage@humak.fi
H&H Call for Papers and Posters

Conference: ICOMOS Annual General Assembly 2018
Dates: December 4 – 8, 2018
Place: Buenos Aires, Argentina
Deadline for abstracts: 30 April, 2018
The meetings will be accompanied by a one-day Scientific Symposium on the theme of "Sustainability: Cultural Heritage and Sustainable Development" organised by the Advisory Committee. The Symposium will take place on 7 December in La Plata (very close to Buenos Aires).
Download the Call for Session Proposals – English – French – Spanish
Deadline for submissions is 30 April 2018. For any questions you may have on the Symposium – please contact ADCOM2018-Symposium@icomos.org
Download the tentative programme – English – French – Spanish (French and Spanish translations are under way) Further information on additional events as well as how to register, hotels etc. will be circulated and posted on the ICOMOS website in the coming weeks.
Conference: Ethnography With a Twist

Dates: February 12 – 14 2019
Place: Jyväskylä (Finland)
Abstract Deadline: 31 AUGUST 2018
https://www.jyu.fi/ethnotwist
The conference will bring together researchers from diverse disciplines in the humanities and social sciences. We welcome papers and panels that explore ethnographic research from a wide range of perspectives that reflect the variety of backgrounds and/or address personal and affective experiences of the researchers.
If you are interested in presenting a paper or a poster, or proposing a full panel (including 3–4 papers), or an experimental ethnographic session/workshop, please submit an abstract of 250 words, including 4–6 keywords, the title, the author(s)' name(s), affiliations, and contacts by 31 AUGUST 2018 to the conference organizers' at email address: ethnotwist@jyu.fi. Please see more instructions about abstract submission at https://www.jyu.fi/ethnotwist.
More information: Ethnography with a Twist_CfP_ FINAL
Research, Education and Training
Capacity Building Workshop on Nature-Culture Linkages in Heritage Conservation in Asia and the Pacific: Disasters and Resilience
This year's workshop on Nature-Culture Linkages in Heritage Conservation in Asia and the Pacific will be focusing on Disaster and Resilience. Organized by the UNESCO Chair on Nature-Culture Linkages in Heritage Conservation at the University of Tsukuba (Japan), it will take place from 21 September to 01  October 2018. Deadline for application: 07 May 2018.
For more details see here
International Workshop Palermo: Cultural Heritage, Migration And Sustainable Development, 18-30 June 2018

The international workshop Palermo: Cultural Heritage, Migration and Sustainable Development strives to promote dialogue between national and international experts and students in order to provide innovative ideas on sustainable strategies for culture management and sustainable tourism.
As next Italian Capital of Culture in 2018 and as stage of the Biennial of Contemporary art Manifesta12, Palermo is currently experiencing a process of cultural regeneration. Facing a rapid increase of tourist flows as well as Mediterranean migration, the city is developing an urban agenda that makes cultural diversity an essential dimension of intercultural dialogue.
Funding and Scholarship Opportunities