Montalbano Elicona and conference venue
Flights and transfer
Shuttle Service
Restaurants
Car Rental
Visa Information
Letter of Invitation
Local SIM-card
Electrical and Voltage Information
Currency
Climate
Montalbano Elicona and Conference Venue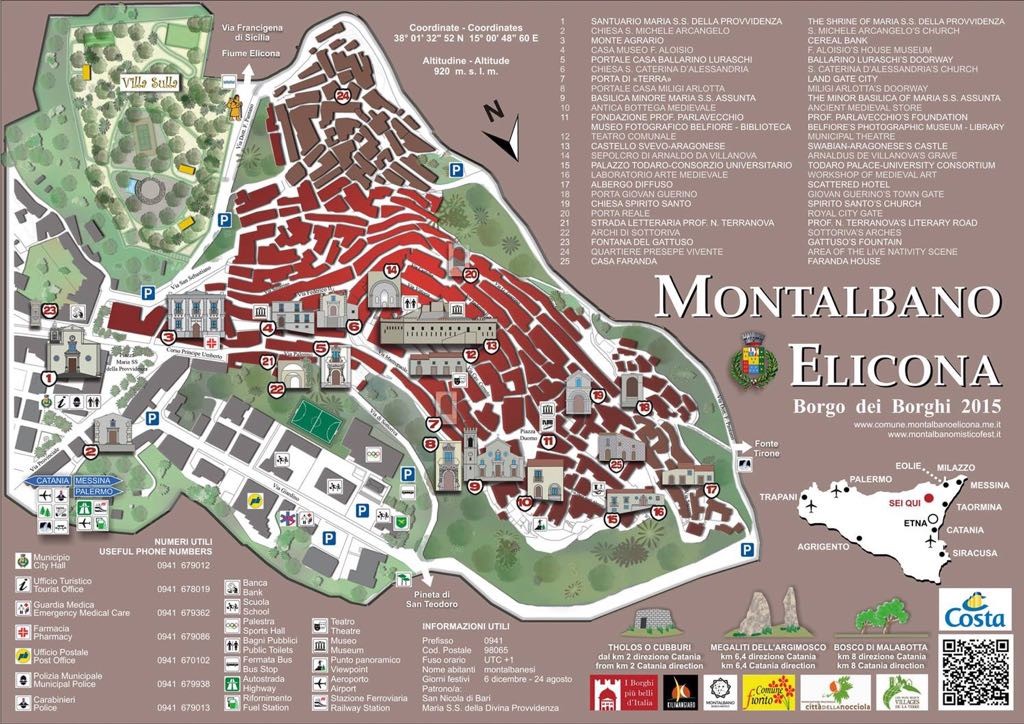 The village of Montalbano Elicona is one of the most beautiful villages in Italy, and it has been nominated as "The most beautiful Village of 2015". The tiny  houses, characterized by a medieval imprint, are built on a big rock creating a complex labyrinth of beautiful alleys that surround the majestic Svevian-Aragonese Palace, the churches and the other location of the town. The origins of this charming village are dating back to the eleventh century, and the feudal town was ruled by many important Sicilian family such as the Lancia in 1396, and the Colonna and Bonanno in 1587.
The conference venue will be the most important monument of the village: the Swabian-Aragonase Castle which dominates the medieval village, it was erected by Federico II di Svevia in 1210. It includes a Chapel enriched by wonderful frescos.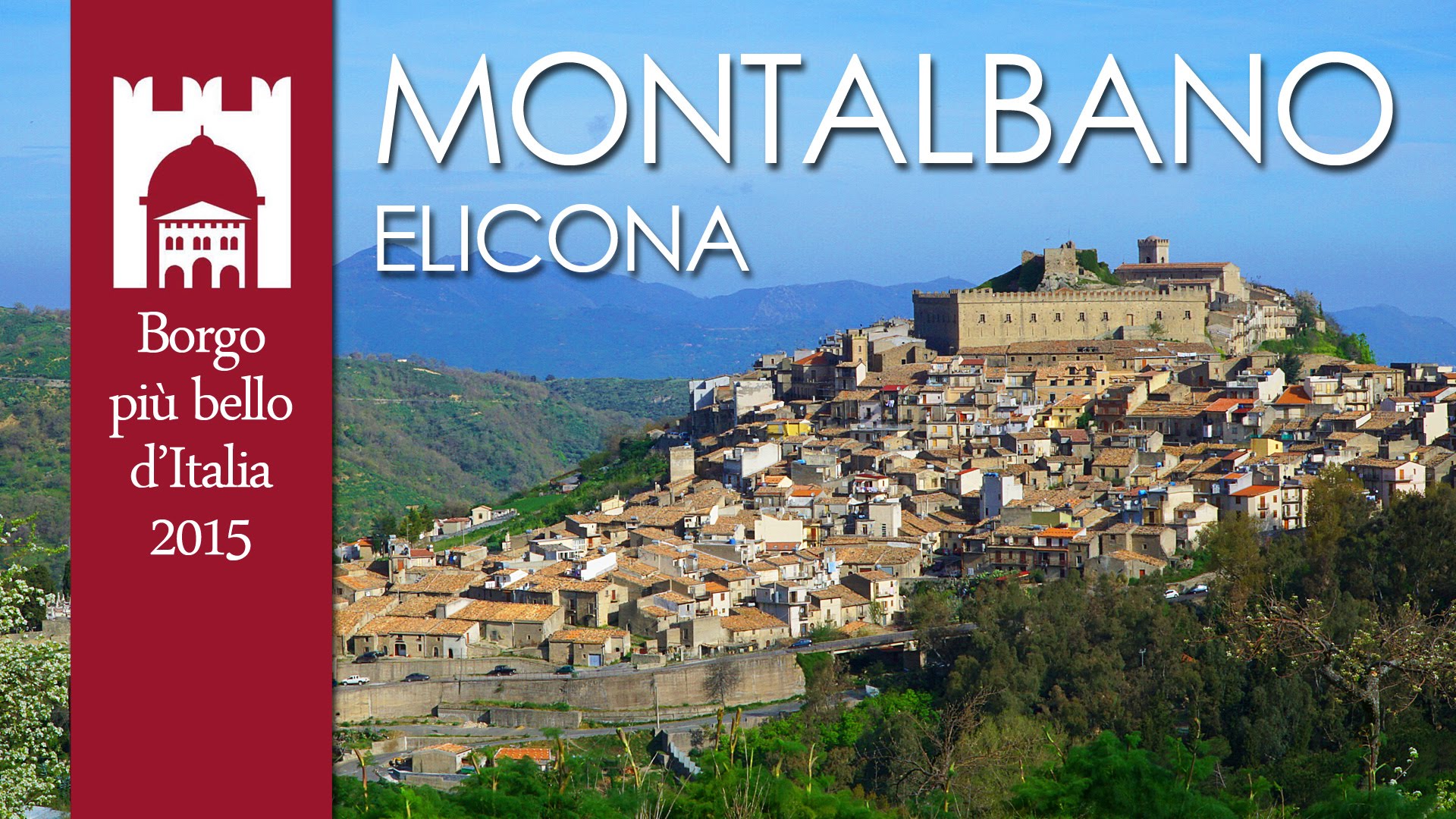 Other monuments are the Church of Santa Cateria, built in 1300, it has a Romantic charming facade; the Santuario of Maria SS della Provvidenza is one of the main churches of Montalbano and is considered as the heart of the old town centre; the Mother Church, erected in the 12th century includes impressive Corinthian columns and works of art dating back to the 17th century; the Church of Spirito Santo, built in 1310 has a Roman style; and the Church of San Michele erected between 1100 to 1200.
Information: http://www.sicily.co.uk/nearby_town/montalbano-elicona/
Flights and transfer
Please contact Mrs. Teri Priebe (priebe.teri (@)gmail.com) if you need help with your international  AIR.
The 2018 ICAHM Annual Meeting will be held at the castle of Montalbano Elicona, [Province of Messina, Sicily], 100 km from Catania. The preferred airport is Catania International Airport. Transfers will only be arranged from CATANIA Airport to the hotels and Montalbano Elicona on:
23 October & 24 October at 10.30h (10.30am), 15.00 (3pm) and 22.30 (10.30pm)
and from the conference venue to the airport on 28 October at 11.00 (11am)
If you wish to make use of this transfer (no additional charge) please indicate your preferred transfer time on the registration form and send your travel information before 23 September to Mrs. Teri Priebe (priebe.teri (@)gmail.com).
If you have chosen to stay at one of the hotels (see accommodations)shuttle buses will be organized  every day to take you to and from the conference venue.
Shuttle Service
During the Conference shuttle buses will be organized between Montalbano Square and the Montalbano Hotel, Rosa dei Venti Hotel and Borgo Abacena  Country Resort :
Hotels –> Montalbano
Montalbano –> Hotels
24 October
15.00h
18.00h
19.00h (only upon request)
22.30h
25 October
08.30h
23.30h
26 October
08.30h
19.00h (only upon request) 23.30h
27 October
08.30h
19.00h (only upon request) 23.30h
28 October
08.30h
11.00h
Shuttle times are flexible. Please come to registration desk if you would like to arrange a shuttle at a different time.
Restaurants
23-28 October restaurants in Montalbano Elicona will offer special conference menus!
La Taberna di Arnaldo


Via Teatro, 8, 98065 Montalbano Elicona
Ristorante "U Sicilianu"


Corso Principe Umberto 7

, 98065, Montalbano Elicona
Menu: 25EUR
Menu IT/EN
Pizzeria Villa Sulla
Via San Sebastiano,

98065, Montalbano Elicona


Menu IT/EN
Ristorante  Il Ritrovo Dei Re


Corso Principe Umberto, 13, 98065 Montalbano Elicona


Menu IT/EN
Il Girasole
Corso Principe Umberto, 55/57, 98065 Montalbano Elicona
Menu: 25EUR
Menu Vegi EN/IT
Menu EN/IT
Il Gelso
Cda Fontana Pumo, 98065 Montalbano Elicona
Menu: 25EUR
Menu EN/IT
Car Rental
There is limited parking space at the castle in Montalbano Elicona, we therefor strongly advice those that are staying at the hotels and at the b&b's in Montalbano to use the transfers that we offer.
You can rent a car at Catania Airport and there is one (SEMIDA) in Falcone. You can either do this online, or you can contact Mrs. Teri Priebe  (priebe.teri (@)gmail.com) to help you to reserve your car.
Please note that signage in Sicily is limited and any travel plans should be well studied beforehand.
Visa Information
It is the delegate's responsibility to investigate the visa requirements for Italy and apply for a visa, if necessary. For more information, please visit https://www.schengenvisainfo.com/italy-visa/.
Letter of Invitation
If you require a visa, we advise you to obtain and submit an official Letter of Invitation from the conference organizers to help facilitate the visa process. Please note that Letters of Invitation are only issued to registered and paid/approved delegates. You can request a Letter of Invitation via conference (@) icahm.icomos.org.
Local SIM-card
There will be WiFi in the castle and there is WiFi in the main square of Montalbano Elicona. For information about a local sim-card please check this website: https://www.tim.it/tim-visitors-en. It is not possible to buy a sim card at Catania Airport, you can purchase a sim-card at Rome Airport in case you transfer there.
Electrical and Voltage Information
In Italy the power sockets are of type F and L. The standard voltage is 230 V and the standard frequency is 50 Hz. Please see comprehensive information related to Electrical Plug/Outlet and Voltage in Italy here.
Currency
Italy uses the Euro (€). You can change money at Catania Airport or get money from an ATM/Bancomat (advised). There is no bank in Montalbano Elicona, but there is ONE ATM/Bancomat outside the post office.
There is a bank in the nearby villages of Falcone and Oliveri.
Credit cards are usually accepted in restaurants and shops (VISA, Mastercard, Maestro).
The Italian Banking Association has an efficient ATM locator on its website at http://faro.pattichiari.it/index1.phtml
Climate
Montalbano Elicona is located more than 900 meters above sea level in the interior of Sicily which is occupied by hills and mountains. Precipitation in this area is generally quite low, around or below 500 mm (20 in) per year, while it increases again at higher altitudes, above 1,000 metres (3,300 feet). The average temperature for October are min. 12C / 54F – max. 22C / 72F
https://www.climatestotravel.com/climate/italy/sicily
http://www.meteo.it/meteo/montalbano-elicona-83057